Victor Regulators
Genuine Victor regulators represent the finest in gas pressure control devices. You can trust the quality, safety and workmanship that go into every Victor gas regulator.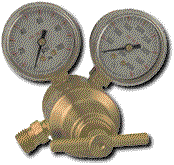 Victor SR 150R Regulator

The SR 150R Oxygen regulator and SR 160AR acetylene regulator are rear entry, single stage construction with light duty flow rates. Ideal for plant maintenance.

Specs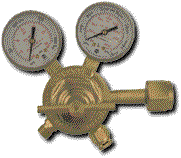 Victor SR 350 Regulator

Victor SR 350 regulators are designed for medium to high capacity gas service. This single stage regulator is a performer suited for applications ranging from laboratory to the industrial job site.
Specs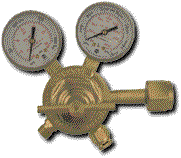 Replacement Gauges


Smith premium quality replacement pressure gauges are precision made in the USA and are suitable for all major brands of oxy/fuel regulators.

Replacement Gauges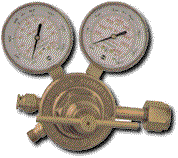 Victor SR 450 Regulator

Victor SR 450 regulators are designed for medium to high capacity.

Specs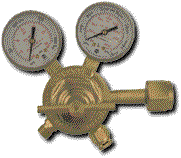 Victor SR 250 Regulator

The SR 250 series regulators are ideally suited for a wide variety of medium capacity industrial and laboratory applications. Compact single stage construction. Uses include welding and cutting, inert gas welding, laboratory testing, etc.
Specs


Turbo torch Nitrogen Purging Regulator 245-03P

Ideal for purging and blowing out AC lines. Comes with standard male flare fitting to hook directly to high pressure refrigerant charging hose.

Specs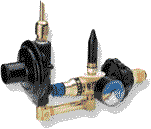 Western Balloon Regulator - BR4HG
Professional foil and latex balloon inflator is designed to quickly inflate foil balloons to the same size every time. An automatic shut-off for foil balloons eliminates costly balloon breakage. The latex filling outlet is equipped with a rubber tilt valve for fast inflation of latex balloons. The large hand-tight connection provides for easy attachment to a cylinder.
Comes complete with tie hood and ribbon cutter.
3000 PSIG maximum pressure

Western Balloon Regulator -
RPB - 6HG
This deluxe inflator provides for quick filling of latex balloons. The RPB-6HG features a large, easy-to-use hand-tight cylinder connection to make installation simple and quick. Regulator comes complete with cylinder contents gauge.
3000PSIG maximum inlet pressure